Best Blogging Tips for Beginners: 6-figure blogging Blueprint
If you want to know the best blogging tips for beginners on starting a six-figure blog, this post is what you should be reading right now.
If you really want to make money on the side and escape the ordinary, learning how to start a blog could be the best option to consider.
You can leverage blogging to make more money for yourself and live your desired life to the fullest.
If at all, you want to call a quit to that stressful 9-5-hour job that uses you more and pays you less, setting up a blog can help you achieve that fit and make you answerable to no boss in no time.
In this article, I will be showing you just how to start a blog the right way, drive traffic to it (audience), monetize your blog, and be able to smile to the bank every single month.
Starting a money-making blog right where you are is never a big deal at all. With less than $3/month you are halfway through building a lasting business that can generate thousands of dollars on a monthly basis.
This article on blogging tips for beginners will go into detail, as promised, in equipping you with the necessary guidelines to help you get started almost immediately. All that is required from you is to take the necessary action and not the other way around.
Our posts are reader-supported and may contain affiliate links, which means we could get awarded a commission when you make a purchase, at no extra cost to you. see disclosure
Before we can proceed, we have to know what a blog is.
What Actually Is A Blog?
I propose that we begin by explaining what a blog is to newbies or those who have only a rudimentary understanding of what a blog is all about.
Actually, a blog is a frequently updated website where an author shares his or her knowledge on a specific topic in order to provide value to the blog's readers.
A blog is different from a normal, traditional website with only static pages. In a blog, you would have to maintain a regular update routine by dishing out fresh articles consistently, at least twice a week. This brings us to the practical aspect of running a blog.
Starting your own blog can be beneficial because it can help you expand your online reach and showcase your company or brand to a hungry audience willing to pay for your services.
If you are to build and run a successful blog wherever you are, your blog must have these focal points in view:
Give Value
Be Consistent
Solve a pain point
Your blog should be viewed as a school, and you should consider yourself a teacher. When you fail to provide value to your students (audience), they become frustrated and decide to leave.
When you don't provide value through your blog, your readers are forced to leave to find a better solution to their problem elsewhere (on another site).
The reason you found your way to this blog is to learn how to build your blog and make money from it. If I were to talk about how to "roll your sleeves and kick boxes," I believe you would have left already. That is the exact way your audience feels when you talk in the abstract.
All that is required for blogging is to dish out insightful content that solves the pain points of your readers. Believe me, it is quite simple and you can do it by following my guidelines.
Basic Blogging Tips for Beginners
In this section, we'll go over the essential steps that must be taken before your blog goes live on the internet. Before you start a blog, here are some important things to consider.
This article is lengthy and has enough information to help you succeed, so I suggest you take your time reading it, and please don't skim or skip any part of this content.
The following steps are critical for starting a profitable blog.
Choose Your Niche Carefully.
Choose A Name For Your Blog (www.Yourdomainname.com)
Choose a host for your blog.
Install WordPress On Your Server.
Setup Your WordPress Site (Create Your Pages)
Install a suitable WordPress theme for your blog.
Install some necessary plugins.
Start Writing Your Blog Post
Promote And Drive Traffic To Your Blog.
Start to Monetize Your Blog.
How To Start A Blog That Makes Money.
Step-by-step Blogging tips for beginners
Here is the step-by-step walkthrough on how to start a successful blog that makes money. These blogging tips for beginners will help you succeed as a marketer in no distance. So, take these tips very seriously.
1. Choose Your Niche Carefully
Don't just go about blogging for the sake of it. You should focus on a defined niche. Unless your blog is a random or multi-niche blog, you should try to be detailed about your niche to avoid possible overwhelm, hence ending up creating a job for yourself instead of a passion-driven blog.
What I am saying, in essence, is that if you are passionate about the "Health and Wellness" niche, it is advised that you create a blog around the health niche rather than hop to the "Make Money Niche" because you feel it could make you more money, or incorporate different niches together. The truth is this: every blog niche makes money when you go about it the right way.
a. Why Build Your Blog Around Passion?
This point defines your blogging journey. If you build a blog that is not passion-driven, you will find it difficult to keep up with its content.
As a result, you could quit even before your blog makes the first dollar. Passion could be professionally acquired or just a hobby.
For you to conquer this phase in your blogging journey, I suggest you take an inventory of topics you can freely write on without running out of content ideas.
You can proceed to do the following to get your niche of interest:
Conduct a thorough check to see if there's any overlap between your list of passions and the list of things you're good at. If there is, these should be considered the top choices for your blog.
Break down each niche individually and jot down potential sub-topics to see which niche with sub-topics interests you the most.
You can refer to or reach out to other blogs that are in the same niche as you to identify what inspires you the most.
Once you are able to find one, build your blog around it. Don't assume your chosen niche is absurd. There is always a huge market for every niche.
Once you have garnered enough traffic, search on Google for businesses promoting affiliate offers in your niche. You will surely find one.
b. Let Your Niche Have Commercial Intent
Don't be a hobbyist. You wouldn't waste your time and money on a non-profitable blog, would you?
The reason behind starting a blog is to find life out of it. Unless you are blogging as a hobby, you shouldn't bother about making money.
When sourcing for a niche to blog on, get one with money-making potential or that can easily be monetized. Such niches include health, personal finance, making money online, fitness, lifestyle, fashion, technology niches, etc.
Before starting to blog on any of your chosen niches, evaluate yourself to ascertain your level of expertise in creating content around your chosen niche as well as the commercial intent niches.
You can still do some research on Google for keywords you find difficult, but never plagiarize content as you can be penalized for it.
c. How Competitive Is My Niche?
Before proceeding to blog or creating content around any niche (topic), you have to properly analyze how fierce the competition for that topic is if at all you will have a chance of ranking for that keyword. Here is a quick snap of what am talking about.
Do I need to tell you that the competition for this keyword is stiff and it would be very difficult for a new blog with zero or low domain authority to find its way onto the first page of Google for such a competitive keyword?
You better not waste your time on it, since it is dominated by the higher authority sites with a huge backlink profile.
In identifying such keywords, they usually have high search volumes and CPC (cost-per-click). Read up on the importance of backlinks and how you can build yours for better ranking opportunities.
This snapshot is to show you the domain authority and backlink profile acquired by the first three sites ranking for the keyword "make money".
Such domain authority takes over a decade to build and these sites are highly trusted by Google, whereas yours is a new site barely a year old, and its contents are still under review by search engines.
d. Keywords You Should Target As a New Blog
As a new blog, you should avoid highly competitive keywords as you would have no chance of ranking for them.
Note, there are a million other blogs writing on the same keyword and competing for the same position as you, and that's all the more reason your content should be in-depth and epic if you must win the top spot.
Google has only ten spots for each search query, and only the best results make it to the front page every time a query is entered by the user.
For you to appear on the first page of Google as a new blog for any query, you have to be targeting low search volume and low difficulty long-tail keywords.
You may ask what a long-tail keyword is?
e. What Are Long-Tail Keywords And Why Do You Need Them?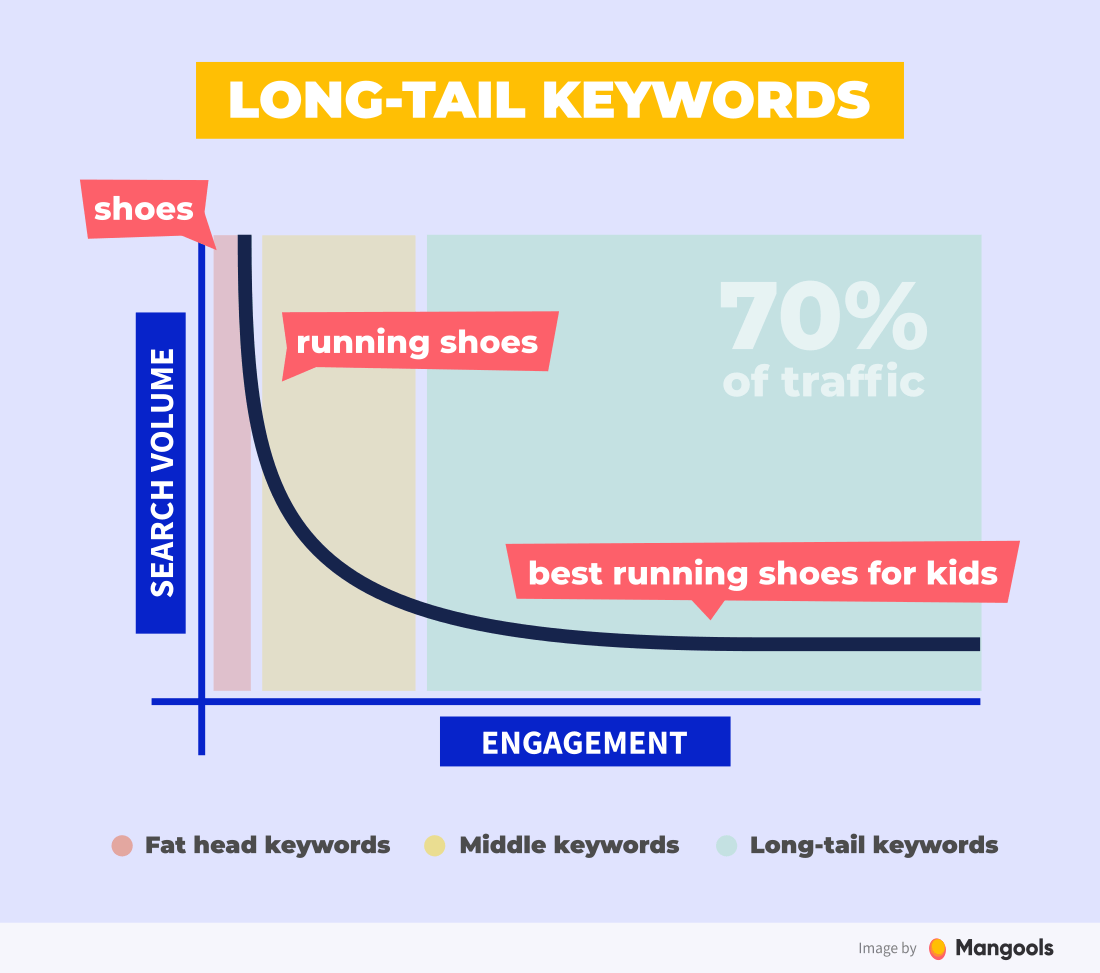 A long-tail keyword, simply, is any keyword that contains three to five words. They are more specific than generic keywords this is because they appear to ask a specific question.
"Blogging" is an example of a generic keyword, while "Blogging tips for beginners" is a clear example of a long-tail keyword. Using long-tail keywords should be the lifeline of your blog if you want to see it flourish.
Why are long-tail keywords important?
By targeting long-tail keywords with your blog posts, you will have better chances of ranking on the first page of Google for your target keywords.
Long-tail keywords are the holy grail for new and established blogs, and you must focus on stuffing up your keyword lists with these types of keywords whenever you are coming up with content ideas for your blog posts.
Considering they are less competitive, very SEO-friendly, and few sites are equally targeting them, you will have an advantage.
To come up with the right long-tail keyword ideas, you will need to do proper keyword research to find ideal and winning keywords to target with your blog posts. To achieve this, you will need a good keyword research tool.
f. Free Keyword Research Tools vs. Paid Tools: Which Is Better?
I wouldn't be doing you any favors if I didn't expose you to this honest comparison. We know too well that blogging is all about finding the right keywords with good search volume and low difficulty, creating content around these keywords, doing the necessary SEO, and then waiting patiently for search engines to reward your efforts.
What happens when the data and analysis you obtain using a free keyword tool are totally wrong and misleading compared to that of a paid tool?
Obviously, it happens all the time, and I suffered from this on countless occasions until I invested in a paid keyword tool that became life-saving for my blog.
Don't engage in random keyword research without using a keyword research tool. I did it in the past and it was disastrous and unyielding as I kept getting the wrong data all the time.
There are free long-tail keyword generators out there; one is Answer the Public. Note, using this tool only permits you to three trial limits per day and without analysis of the keyword difficulty or the monthly search volume, which are necessary data in keyword research.
READ ALSO: How to Start Affiliate Marketing: A Complete Guide For Beginners
I will also include other free and paid keyword tools as we proceed with this post.
For accuracy in keyword research, I always recommend Long Tail Pro to anyone looking for a comprehensive analysis of long-tail keywords.
This is one of the best keyword research tools available today. The best part is its affordability. Whether you are a big spender or a blogger on a budget, long-tail Pro has got you covered.
The exciting part of this tool is that Long-tail pro goes inward in revealing all the related keywords to your search query.
This is called "keyword brainstorming," which makes it impossible for you to run out of keyword ideas, which is a major problem for bloggers.
With long-tail pro, you are bound to get tons of keywords that you can create content on for a very long time with just a click.
If you're still undecided about what niche to choose for your blog at this point, I'll list some blog niches for you to choose from based on your interests.
Health and Wellness Niche
Personal Finance Niche
Make Money Niche
Fitness/Bodybuilding Niche
Technology Niche
Food/Recipe Niche
Blogging Tutorial Niche
Fashion and Beauty Niche
Lifestyle Niche
Art + DIY Niche
Product Reviews Niche
Parenting Niche
Entertainment Niche
Business & Finance Niche
Personal Development / Self-improvement Niche
Relationship Advice Niche
And many more niches…
ALSO READ: 20+ Legit Ways to Make Money Online in Nigeria in 2022
2. Choose A Domain Name For Your Blog
Your domain name is simply your unique web address, made just for your blog. The name you come up with is actually what your blog will bear whenever it appears on search engines.
Therefore, when choosing a name for your blog, remember to keep it precise, memorable, and not complicated.
www.tutblogger.com is the unique domain address for this site; other examples are www.mashable.com, www.techcrunch.com, etc.
I believe these few examples guide you in choosing a domain name that best describes your niche and business with ease.
In my opinion, your domain name should not be more than eight to ten characters long. You should avoid using special characters when coining your domain name.
Doing so can make it difficult for most of your audience to figure out or remember upon finding or returning to your blog.
It should interest you to know that 85% of your blog visitors are never coming back. What's more, when you give them a bad experience with your complicated domain name, it's bye-bye for good.
There are a few blogs whose web addresses I bookmarked due to how precise their domain names are and the helpfulness of the articles on those blogs.
Your blog is a brand, and you should strive to make it stand out from others. Your blog should be a go-to resource for your audience, and starting with a carefully picked catchy domain name that best suits your brand and niche is one way to go.
In the image above, you can see some of the different types of domain extensions that are existent, but when it comes to the most popular TLD (Top Level Domain), the .com domain extension takes the lead.
I advise you to go for the top-level domain extension, which is the .com domain as it is more popular, memorable, and easily accessible to your audiences.
You can also go ahead and personalize your domain name by making your domain bear your own name instead of a coined name. Doing so will make your blog look similar to this (www.yourname.com), which is not a bad idea either.
It will surprise you to discover that your domain name might have been taken up by someone else and now exists on the web.
To determine the availability status of your domain, click on the image below, head over to the "domains" that stretch across the top of your screen, and look up your domain name in the search bar.
a. Can I Start My Blog On A Free Platform?
If you are among those wondering if a free blogging platform exists so you could start your blog for free, actually, your guess is not wrong as there is a free blogging platform for those who want to avoid costs in their business.
Almost all blogging platforms offer a free plan to their customers, and this offer shouldn't arouse your excitement because the idea of buying the plan is intentionally shooting yourself in the foot.
If you plan to build a lasting business out of your blog, then you should be ready to invest in your blog to see it blossom into something big.
I would never advise anyone who wants to start a money-making blog to buy the free platform idea due to the hiccups you will face afterward.
Using a free blogging platform only leaves you with limited features as you would have no full control over the blog.
You just have to count professionalism out of the whole process and you wouldn't love the outcome later especially when your blog starts getting traction.
Here are more reasons why you should avoid choosing a free platform for your blog.
You can't monetize how you want.
You don't have full ownership of the website.
Restricted to functionality,
Unattractive URL (https://yourdomainname.blogspot.com, https://yourdomainname.wordpressblog.com, etc.)
You can't customize the blog to your feelings.
You can be denied access to the blog without notice.
To avoid stories that touch, proceed here to get your domain registered in seconds at the cheapest rate possible with the best web hosting that guarantees 24/7 uptime for your website to get your blog started on the right grounds.
Maybe you still want to proceed with the free plan, which I don't recommend you do. Here is a link for that. You can check it out.
Starting a blog is actually cost-effective; you only have to pay for your domain name and hosting package.
Apart from these two, there is no other cost incurable in starting a blog except for premium tools you might need later on for the smooth and effective running of your website.
3. Choose A Hosting For Your Blog
For your website to exist and appear online, it must be hosted. Web hosting is a necessity as no domain registered on the web can exist without being resident on a server.
Web hosting is the available space allotted to you by your host for the hosting of your website. It is like a building that houses your website on the internet.
The same way you have to pay for your apartment, the same applies to your hosting package. Your domain name is worthless and incomplete without a host or a housing server. A good web host is as important as your site itself and should be taken seriously.
There are bad hosting companies out there claiming to render services that they don't. This makes it worthwhile to do thorough research before choosing a host for your blog.
Remember that your blog would actually be staying around for a very long time, and a bad host would obviously have a negative impact on your success full time.
What are the feasible consequences of bad hosting?
Regular Down Time
Horrible Customer Service
Poor Site Speed, Which Is A Core Web Vital
It Can't Handle Huge Traffic
That Would Obviously Plummet Your Conversions, Etc.
Do you still need more convictions on why you should avoid every bad hosting service out there promising to offer you what they don't have at the cheapest price?
Aside from knowing some core negative effects of using bad hosting for your sites, let's also consider the rewarding benefits of using a good host for your business.
Why You Need The Best Hosting For Your Blog
I strongly believe that anyone that sets up a business wants to make more sales and maximize profit, and your aim should be no different from that. If your blog is to be successful, you must make the right choices from the onset.
And making the right choice comprises choosing the right hosting provider for your blogging business. This is a crucial part that you must not skip for anything.
Why do you need a good hosting provider for your blog?
To Increase Your Site Conversion
To Achieve The Fastest Site Possible
To Provide Your Site With Unlimited Bandwidth For Bigger Traffic
To Get The Best Customer Support Service When Needed, Etc.
A customer support service is very necessary if you are dealing with a complex thing such as building a website, because a little mistake can affect the overall functionality of your website and you will have no other choice than to start afresh.
A good hosting provider will guarantee you this service full-time, which is why you should insist on the best for your blog.
If you are not technically savvy when handling your website, you can reach out to your hosting provider and have them set things up for you within seconds of requesting their technical support.
This is why I use and always recommend Bluehost to anyone looking for the best hosting service there is.
Why Should You Choose Bluehost For Your Blog?
Bluehost is indeed a complete web hosting platform for all of your hosting needs. Powering over 2 million websites and 1 million blogs across the globe with 24/7 expert support availability, a 99.9% uptime guarantee, unlimited bandwidth, and a free domain name SSL certificate, you have everything you need to succeed at your disposal.
Bluehost is insanely the cheapest hosting provider on the web today. Starting at $2.95/month, you are inches away from launching a powerful website for your blogging business.
Note, with Bluehost you don't ever have to worry about your site going down or returning 404 or 502 error pages that are widespread with bad hosts.
What other benefits are there to using the Bluehost web hosting platform as your hosting provider?
You Get A 30 Day Money-Back Guarantee
You Get a Free SSL Certificate
It makes your site load faster.
It Gives You A Free Domain Name
24/7 Technical Support
It Has An Easy Interface For Techy And Non-Techy Users.
It has an inbuilt Drag-And-Drop WordPress Builder.
300+ Design Templates
Has One-Click Install For WordPress, Etc.
Honestly, if you want the best hosting platform for your blog, Bluehost is your best bet. Bluehost has an official recommendation from the top CMS (content management system) companies such as WordPress, which is a leading brand.
Site speed still remains very significant in the Google ranking algorithm. And using Bluehost would incredibly boost your site's speed because Bluehost uses fast web servers for their hosting packages.
How do you feel when you click on a web page and it takes so much time to respond? You won't have any other choice than to exit the page, right?
That is the same way your audience behaves on your site when the speed doesn't measure up to expectations.
In such a situation, the consequences are usually terrible as your traffic will plummet, your conversions would drop, and lastly, your rankings would follow suit.
Here is the mobile and desktop page speed insight for this particular page.
Such an amazing page speed doesn't come that easily, but, with Bluehost taking care of your hosting plan, you are guaranteed to have a super-fast website and a page speed similar to this.
If you intend to build a standard, professional-looking blog like the one you are reading right now, Bluehost is the right platform to get started on.
All you need to do is to click on the button below and have your website running in minutes!
To set up your Bluehost account, head over to their official website at Bluehost.com, on the home page, click on the "Get Started Now" button, then proceed to choose your hosting package.
Currently, Bluehost has four hosting plans for their customers, which comprise the Basic, Plus, Choice Plus, and Pro plans.
As a beginner who is just starting out, you wouldn't need the Plus, Choice Plus, and Pro plans. Just select the Basic plan as it is more affordable and convenient for the size of your website.
The next interface that prompts up is where you enter your domain name. Note, there are two boxes; one is for registering your new domain and the second box is for moving an existing domain to the Bluehost server.
Since you are registering a new domain, fill in the first box that says "Create a New Domain".
When you are done entering your domain name, click the Next button and proceed to fill in your personal information, followed by the Check Out button.
If you feel skeptical about the whole process, here is a quick video to guide you through registering and setting up your new domain on Bluehost from start to finish.
At this point, the next phase would be installing WordPress on your server so that you can commence blogging immediately.
4. Install WordPress On Your Server
If you want to run your blog on the most user-friendly interface that is easily customizable, then you have to choose WordPress over every other platform that is out there.
Over 60 million people have chosen WordPress to power their websites online, and you should also do likewise.
43% of the web uses WordPress, for hobby blogs, and 63% of big company sites use WordPress too.
There are other blogging platforms that are existent, but due to the convenience and ease of use that comes with WordPress, many users now choose WordPress over others.
The image below shows the other blogging platforms and their user stats. Looking at the statistics, you will see that WordPress is dominating by 57%, leaving 43% to the other platforms to share.
a. Why You Should Use WordPress For Your Blog
If you intend to create your blog on a free platform, you won't be able to install WordPress on your server as it is only available to users with a hosting account.
I know that all you want is a flexible experience with your blogging business and not a complex one.
That is why you have to make use of WordPress to avert every difficulty you could experience with other platforms.
Below are the reasons why many users choose to work with WordPress over others.
WordPress Has A User-Friendly Interface.
WordPress is easily customizable.
WordPress Automatically Updates Its Software
Set-Up is very easy.
WordPress Has An Interactive Support System.
WordPress has a good security system in place.
It Has Countless Beautiful Themes That Are Free.
You Can Have Unlimited Plugins For Your Site's Functionality.
For you to enjoy all these amazing features that WordPress offers to its users, you have to first register your domain name with a paid hosting provider. This Bluehost is the best platform you should be on.
To install WordPress on your server, you must have set up your hosting account and log in to your Cpanel backend with the password and login details issued to you by your host (Bluehost).
Below is the Cpanel login interface you will see. Then proceed to fill in the details sent to your email by your hosting provider. The details include your password and username.
Next, locate the Softaculous Apps Installer, click on it, and install WordPress. It is easy and hitch-free, and you can do it by following this simple guide.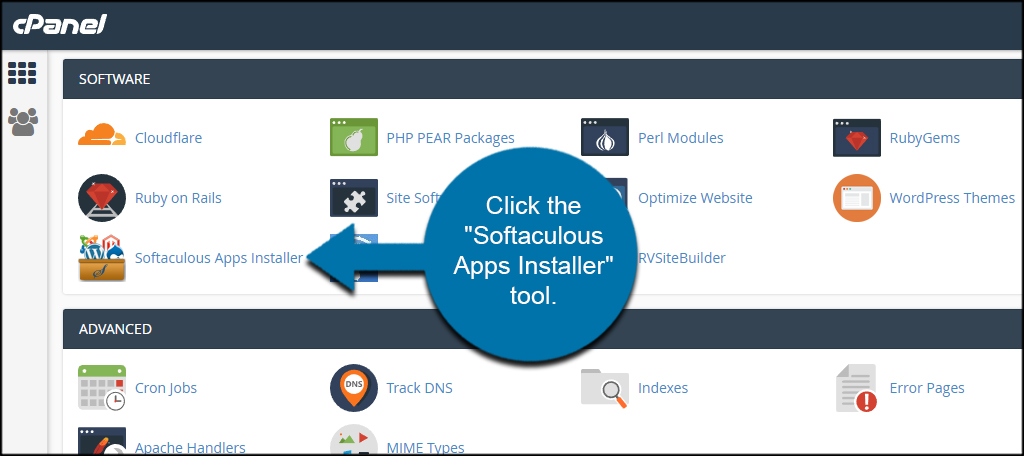 Once you have completed WordPress installation, proceed to choose your WordPress admin password and username.
Also, leave your site security protocol at HTTPS:// and not HTTP://. Continue by providing the email address to which your WordPress login details would be sent, and then hit the Install button.
Upon successful installation, your details will be sent to your provided email address, where you can also view the WP-admin login URL for your blog, through which you gain access to your WordPress dashboard work area, from where you can do major customizations to your site.
5. Setup Your WordPress Site (Create Your Pages)
Setting up your WordPress site involves creating essential pages, tags, post categories, etc. This is a necessary setup every blogger must do to their new site, as this helps to drive home your aim and objective to every visitor coming to your blog at first glance.
Like the popular saying "first impression matters," your blog pages are there to give that impression to your visitors and you must reflect what you blog about on your pages.
The basic pages that should be created for your blog are:
Home Page
About Me Page
Legal pages such as (Affiliate Disclaimer, Terms of Service, Privacy Policy, GDPR, etc.)
Your home page is where you detail the mission statement of your blog. You also highlight what your visitors should expect from you, mostly in a visual way.
Your home page should be customized with a visual editor with good graphics and writeups to bring about a beautiful design. Also, use compressed images to avoid losing page speed.
In most cases, you can also use your blog post page as your home page where all your latest articles are displayed.
The "About Me" page is where you talk about yourself, what you do, what your site is about, etc.
You can also tweak things up in an interesting way by telling an interesting story about yourself and how you found success in blogging, or rather, keep it simple like mine.
To create your pages, head over to your WordPress dashboard, locate your page menu, and click on pages.
Now, click on Add new to add new pages. You can also click on All pages to edit your existing pages to your liking.
For more clarity on how to create new WordPress pages, you can refer to this video clip for more guidance.
Other important pages you shouldn't do without are your blog's legal pages. These pages include the Affiliate Disclaimer, Terms of Service, Privacy Policy, GDPR, etc.
These pages are very important because they guarantee legal protection for your blog.
Any user, upon sighting these pages, will know how to behave on your site. These pages clearly set out how visitors use and interact with your website and its contents. They guide them on the dos and don'ts stipulated on your site.
Consulting a legal representative to create these copies for your site would definitely cost a mountain. Luckily, you can get them written for a small fee by website policies for $59.95 for lifetime use. They also offer a basic policy, but it comes with limitations of use.
Here are the differences between the paid package and the free basic policy.
6. Install A Suitable WordPress Theme For Your Blog
The look and feel of your website is determined by the theme you choose. Luckily, gone are the days when HTML codes dominated the web building scene, where every corner of your website had to be written in codes.
Now there are thousands of themes in the WordPress directory waiting for you to hit the activate button.
Not only that, we now have lots of page builders for designing your blog pages that are very easy to use and demand no special savviness whatsoever, which wasn't so in the past, all thanks to technological advancement.
Despite the fact that there are thousands of themes in the WordPress theme directory, picking a WordPress theme for your blog can be very tricky and can leave you undecided for days.
To avoid confusion, all you should do is take your time and play around with the themes until you are able to find one that is suitable for your blog, then hit the activate button.
If you have a theme already in place for your blog, you can click on the Upload theme tab and have it uploaded and installed ready for use.
Alternatively, you can use the theme feature filter to select the features you want for your theme of choice. Click on Appearance > Themes > Add New > Feature filter.
When choosing any theme, be keen on choosing lightweight and fast themes for your blog, as the contrary would really hurt your site speed really badly.
You can go to Google and search for "best lightweight WordPress themes". From the response you get, proceed to make your choice.
The themes listed below are amongst the fastest free WordPress themes that you can choose from.
Neve Theme
Astra Theme
Generate Press Theme
Kava WordPress Theme
Theme by Divi Theme
The Twenty Twenty Two Theme, etc.
If you have a different theme in mind, you can also search for it in the themes directory area.
7. Install Some Necessary Plugins
WordPress plugins are additional software installed on your site to expand and extend its functionality. Plugins are very vital for the proper functioning of your site.
Most functions that would have been very difficult to write in HTML can now be easily installed as a plugin.
As a new WordPress site, you will need to install a few plugins to enable your site to function smoothly. Note that you shouldn't go ahead and install plugins randomly as most plugins can break your site and also conflict with other plugins.
Not only that, having plenty of plugins installed on one site can adversely affect site speed and should be avoided.
Below are the must-have plugins for your new WordPress blog.
Yoast SEO or Rankmath
Jetpack
WP Super Cache
Grow Social by Mediavine
Each plugin has its own unique function to contribute to the smooth running of your website. The Yoast and Rankmath SEO plugins are the best sets of plugins for SEO.
I personally prefer Rankmath because it offers free options that exist in the Yoast pro plan. An SEO plugin was designed to better optimize your site for Google ranking.
To activate this plugin, head over to the WordPress plugins repository and search for Rankmath SEO.
Immediately it comes up, hit the install button. Once installed, click on 'activate' and proceed to use the tool. You can download Rankmath here or through your plugin repository.
Jetpack is a plugin suite that combines essential WordPress features into one large plugin. It allows you to manage the features you want to use, and you can turn off the features you don't need.
The core focus of the plugin is security, performance, and marketing. Jetpack has over 5 million active installations, making it one of the most popular plugins on WordPress.
Owing to its popularity, Jetpack is usually among the first plugins to pop up when you click to add new plugins.
To have it installed, go to the Wordpres dashboard, locate plugins > Add new, and search for Jetpack. Once it pops up, click on the install button to get it installed and activated. You can download jetpack here or through the plugins directory.
WP Super Cache is a caching plugin that stores static versions of your website in a cache. This allows WordPress to skip running heavier PHP scripts every time your site loads.
The caching process helps to improve site speed and performance, as well as the overall user experience.
This plugin was designed by Automattic, the company behind WordPress. You can have WP Super Cache downloaded here or through the plugin directory.
Another plugin on the list is Grow Social by Mediavine. This plugin was specifically made to keep your audience engaged with your articles by sharing them on their social platforms, thereby increasing the virality of your content and brand.
This plugin is ideal for reaching a wider audience and exposing your blog. so you'd do well to have it installed.
Another reason for loving this plugin is how easy the customization interface is. It is a lightweight plugin and doesn't affect site speed. Head over here to download Grow social by Mediavine or through the plugin repository.
There are still other plugins you would need in the course of your blogging, but in the meantime, you have to start with these few and proceed to add others later once there is a need for them.
You can also refer to this video clip on the three different methods to have plugins installed and activated on your WordPress site. Do well to watch it if you want to have a glimpse of the processes.
8. Start Writing Your Blog Post
This is where the practical work is in running a blog. Blogging is all about writing articles on a regular basis to keep your audience engaged.
If you can't keep up with creating content for your blog, don't bother starting one in the first place.
Don't expect blogging to be a smooth slide or ride on a roller coaster; it is way beyond that. You would have to seat behind your computer for hours or even days creating a single piece of content to dish out to your audience which is time-consuming.
Let's take this particular article you are reading as an example. Judging from the length of the content and how in-depth it is, it took me over four days to bring this piece together, coupled with other activities I had to accomplish along the line.
I am not saying this to scare you, but to educate you on the task ahead. If you actually plan to see your blog grow, you will have to devote enough time to creating content, especially now that you are just starting out.
I will also have to reiterate this again: prior to creating any content for your blog, you should do in-depth keyword research for the keyword you intend to create content on to ascertain the level of difficulty and your chances of ranking for that keyword.
As I cited earlier in this article, your best chance of ranking for any keyword is by targeting longtail keywords.
And for you to get the ideal keywords to focus on, I recommend you use longtail Pro to get the best rankable keyword opportunities.
If you really desire to have your blog started but finding time to create content is actually a problem, I have a very viable solution for you.
You can hire a professional writer to outsource content for your blog while you do other things. It is that simple and awesome!
HIREWRITERS, is a dependable source where you can quickly find available writers who are willing to write an engaging blog post for your site in exchange for a small fee.
I have been using this company for a while, and their services have been top-notch to date. If you have little or no time to create content for your blog, I recommend you hire a writer to help you out.
Thinking about the cost?
Obviously, hiring a writer on their platform is very pocket-friendly and convenient for anyone. Below is how articles are priced according to word count.
You Get A 150-300 Word Article Written For $1.50
You Get A 700-1000+ Word Article Written For $5.00
You Get A 150-300 Word Article Rewritten For $1.25
You Get A 700-1000+ Word Article Rewritten For $4.25
With them, you can have articles written for you at an insanely cheap price. Their prowess extends to other areas of writing as well. In the snapshot below, you will see other services you can hire them to do for you.
You can also make money on their platform if you have good writing skills. To get started, all you need to do is to sign up and then proceed to click on the "GET PAID TO WRITE" tab.
Once the process is complete, you can start making money from every article you get hired for.
To start writing your blog posts in earnest, head over to your WordPress dashboard and click on Post > Add new.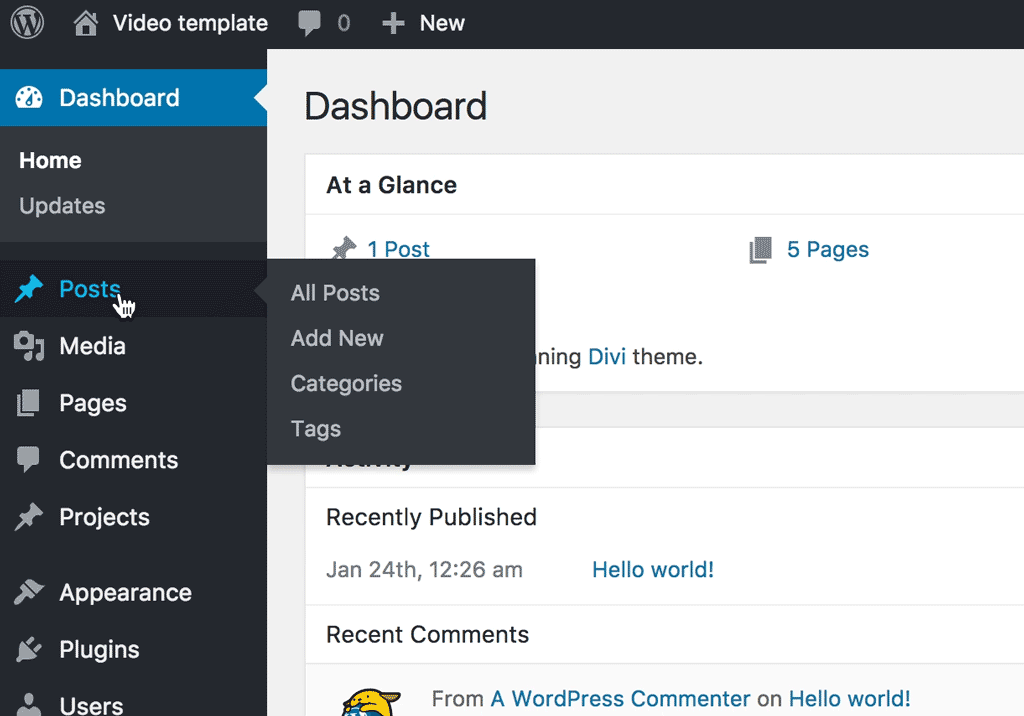 Now, you can proceed to write your post heading followed by the main body of your article.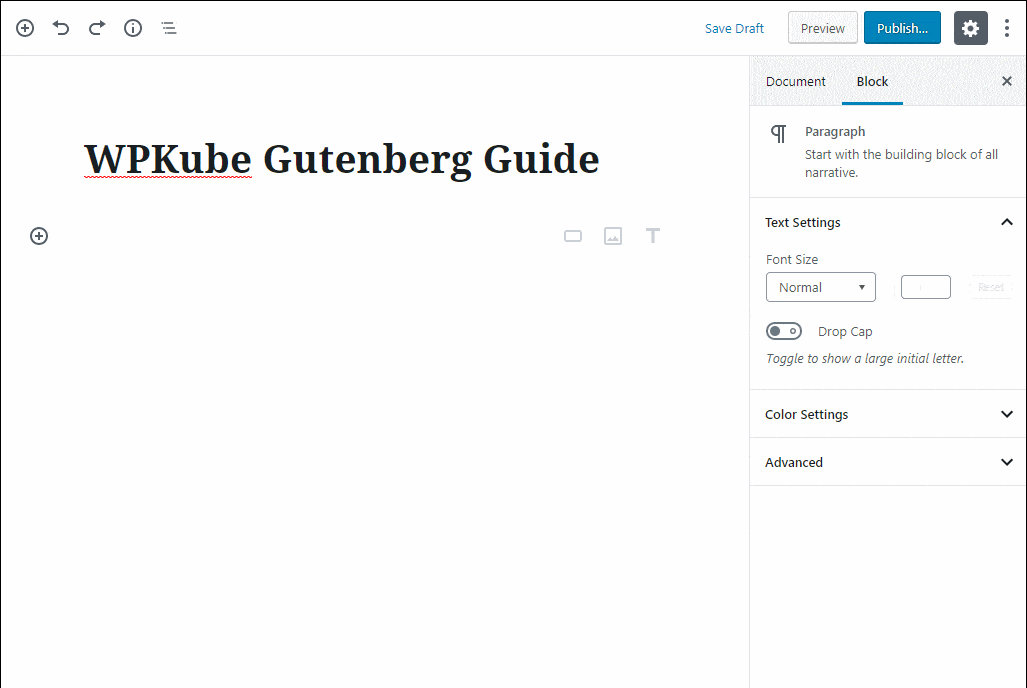 The image above shows how to write and edit your first blog post, especially in the new WordPress Gutenberg editor.
Once you are done with creating your blog post, scroll to the top right corner and hit publish. You can also preview your article before publishing it by clicking on the preview button.
For the smooth running of your blog, I will be revealing some free tools you can make use of until you are able to upgrade to a paid plan.
a. Grammarly For Writing Corrections
Writing good content devoid of grammatical errors should be your main focus whenever you are coming up with your content.
There are tools you can use to avoid grammatical and punctuation errors in writing. Such a tool is Grammarly. This is a content writing assistant that helps to correct typographic errors in your writing.
Do well to add the free chrome extension to your browser because you will actually be needing this tool a whole lot.
It has both free and paid versions, but as a newbie who wants to save money, the free version will do. To get this software activated on your site, head over to their website at Grammerly.com and create your account. It is free.
b. Free Keyword Research Tools
I promised to reveal to you some of the free keyword research tools that are out there. Though the data and analysis they show are not bankable, you can still have them around at least.
One such tool is Whatsmyserp. This tool can easily be installed on your system via the Chrome extension. You can click on this link to have it installed. Here is a quick search I did on "online surveys", and below is the feedback I got.
This tool will reveal to you the monthly search volume and cost-per-click of the keyword you searched for.
Another tool that has a similar function is Keywords Everywhere. This tool also goes deep to dig out related keywords to your search query alongside the monthly search volume, cost-per-click, and level of competition.
To see all the data uncovered by this tool, you would need to purchase credits. According to them, you can either buy credits directly or earn credits when you refer people to purchase credits through your referral link. Follow this link to get the chrome extension activated in your browser.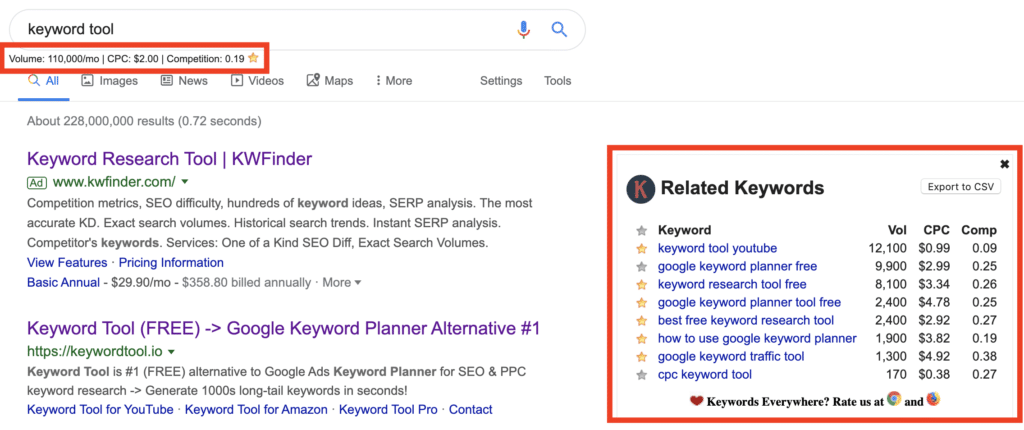 Free tools often have shallow and unrealistic results to offer at the end of the day, and I advise you not to bank on these results because they can be very misleading and untrue.
There are paid keyword tools that give real, data-driven results. Such tools include; Moz, Ahrefs, Semrush, etc.
The above-mentioned tools are all good and reliable for any keyword research purpose, but quite expensive for a blogger on a budget.
That is why I recommend you go with Long-tail Pro since it is cost-effective and has all the long-tail keywords you would ever need to rank your blog.
Yet another alternative to getting long-tail keywords for your blog posts is using the Google auto-suggest method. Here you enter a search query and then allow Google to suggest the rest of the keywords.

With these tools and tips, I am convinced that you can confidently commence writing your blog posts immediately.
9. Promote And Drive Traffic To Your Blog
Having known how to write blog posts and get them published, the next thing you should wrap your head around is how to drive traffic and get exposure to your blog.
Note that a blog without traffic is dead on arrival, so you will need traffic, a lot of it. When you hear the term "traffic," this is simply the unique visitors who come to your blog on a daily basis.
These visitors are paramount to your blog's success, they are synonymous with individuals visiting your physical store to purchase goods at intervals.
Getting your blog running is not always the real deal. Do you know what the real deal is?
It is how to drive a significant amount of traffic to your blog. The simple logic is that a blog = traffic = conversion.
You will need a blog to drive traffic to, and you will need the traffic to make money from your blog. That is how straightforward it is.
Once you have created enough content for your blog, the next vital thing is how to drive traffic to those posts.
Since your site is still a new one, you won't start seeing traffic from search engines immediately. It takes around 7-9 months before Google will start ranking your articles, depending on your consistency and SEO.
Before that time, you will have to improvise by utilizing every available method of generating traffic to your blog. Such methods include:
Share your posts on social media platforms.
Run sponsored ads
Guest blog for backlinks
Send emails with your posts' links in them.
a. Share Your Posts On Social Media Platforms
We all understand the power of utilizing social media for driving traffic and content marketing in general. If you have the right strategy, you can drive as much traffic as you want to your blog with social media.
We all have different social media handles with lots of followers. You can draw virality to your blog post by sharing your links on your platform. Once people click on the links, they are automatically directed to your website.
Social media sites include:
Facebook
Instagram
Whatsapp
Pinterest
Twitter
LinkedIn
Don't just use your social media handles to exchange messages alone; learn to use them to drive traffic to your blog posts and marketing campaigns. You can learn to increase organic traffic through the effective use of social media.
b. Run Sponsored Ads
Running sponsored ads is among the good marketing strategies that generate a high ROI (return on investment) once you are offering the right product to the right audience.
Applying this method is usually the easiest way to drive lots of traffic to your site, but running sponsored ads is cost-ineffective and requires lots of capital. You can run sponsored ads on the following platforms:
Facebook
Instagram
Native Ads
Pinterest
Twitter
Google
LinkedIn, etc.
c. Guest Blog For Backlinks
As much as this might sound unfamiliar and hard to implement, it has always been the most useful way to build authority and boost the ranking of any blog.
Guest bogging. This involves reaching out to established blogs in your niche with a post request in return for a link back to your website.
Backlinks don't come free, as most site owners charge as much as $45–$80 for one backlink, depending on their domain authority.
Though it doesn't necessarily mean that you can not get backlinks without spending some bucks, there are still other ways to acquire backlinks back to your blog with zero cost.
Such methods include:
Leaving Insightful Comments On Other Blogs With Your Link (Do It Responsibly)
Pitching On HARO (Help A Reporter Out)
Establishing Relationships With Other Bloggers In Your Niche
Building backlinks is as complex as it sounds. Brian Dean of Backlinko demystifies the subject matter to a layman's understanding, so I suggest you read the guide on how to acquire backlinks to your site.
d. Send Emails With Your Post Links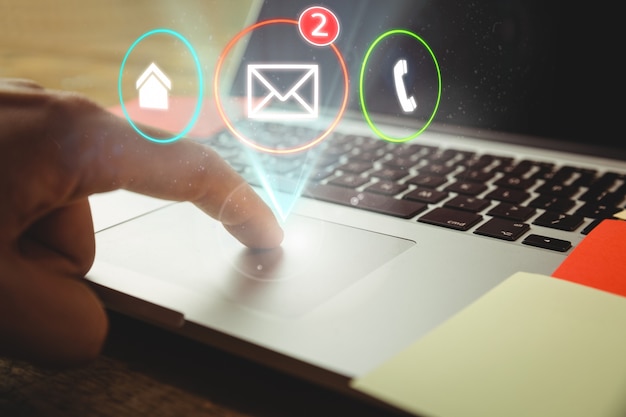 This method involves sending email newsletters to your visitors after they have signed up through a signup form on your site.
For you to do this, you will have to notify your subscribers via an email message whenever you have a new blog post published.
Email service providers charge a substantial amount of money for this, but with Getresponse, you can start collecting emails from your visitors and start sending both blog posts and promotional emails to them.
You can get started with the 30-day free trial and master how the platform works, then you can upgrade to a pro plan letter because you would definitely be needing their service for your blog.
10. Start To Monetize Your Blog
Monetization of your blog I believe this is the reason for starting it in the first place. You wouldn't feel optimistic if, after so much input, no money was made.
As juicy as it may sound, let's get to figuring out the means by which you can make money through your blog.
Before proceeding to monetize your blog, you should focus more on creating lots of content that is well optimized for SEO. After that, you can proceed to monetize eventually.
Also remember that making money with a blog requires patience, consistency, and dedication. These are the success factors you must not fail to imbibe. See this guide on how to optimize your blog for SEO.
Below are ways a blog can be monetized.
Affiliate Marketing
Selling Of Ads Space On Your Blog
Selling Digital Products
a. Affiliate Marketing
Affiliate marketing remains the number one means of monetizing a blog. For clarity, affiliate marketing involves the selling of products and services on your site through a unique link assigned to you by a vendor.
Most affiliate programs pay as much as 65-80% commission to their affiliates. There is so much money to be made through affiliate marketing so I suggest you make it one of your monetization methods.
Some of the well-known affiliate marketing programs are the Amazon associates program, commission junction, JVzoo, etc. You can read this article on how to get started making money with affiliate marketing.
b. Selling Of Ads Space On Your Blog
You can also sell advertising space on your site to make money. Ad revenue is calculated depending on the number of clicks your site receives in a day.
For you to make more money through ads, you need to have a lot of traffic coming to your site. At least aim at 10k-15k visitors per day.
The most popular ad network is Google Adsense. You can apply for a Google Adsense account if you have met their benchmark of 2K visitors per month.
Click here to create your Google Adsense account. Other ad networks include Adthrive (100K benchmark), Mediavine Ads (25k benchmark), and Ezoic ads (10k and above).
c. Sell Digital Products On Your Blog
You can sell digital products on your blog to make money. Selling digital products is among the most renowned ways bloggers make extra income from their blogs. Digital products can be in the form of online courses, Ebooks, or video courses.
Creating an ebook shouldn't be hard at all. You can equally have them created in a Microsoft word file, get them uploaded, and then have the links mentioned in your blog post.
If the content is actually worth its value, your audience will have no choice but to take action, and when they do, you are sure to make some money from them.
This popular post by Udemy further explains how to create an ebook and online courses.
d. Sell Physical Products On Your Blog
If you can come up with your own products, it would be an amazing way to make cool cash from your blog; but as a newbie, you won't be able to incur the costs accompanied by this type of monetization, as starting one requires a huge amount of capital.
Before you can start up this method, you will need to have your own products in place, make available your dispensing channel (courier services), build an affiliate system for your products, advertise your products, etc.
As you can see, you must have spent a very large sum after you have completed these processes. Since you are new to marketing, I suggest you start by applying as an affiliate instead. If you are consistent in it, you will make more money.
It is better to be an affiliate as it is more convenient and devoid of costs when compared to creating your own product.
Other means to make money through your blog include
Through Sponsored Post
One-On-One Consultation Services.
11. Best Blogging tips for beginners (Conclusion)
If you finally made it this far, congrats in advance!
In conclusion, of the blogging tips for beginners, first things first. If you don't think that blogging can rescue you from your financial woes, please think again.
The fact still remains that you can become a millionaire through blogging if you are serious about what you are doing.
Success doesn't happen overnight, you need to be consistent and keen on learning new things continually.
As I cited, the first step to building a successful blog is choosing a reliable host to host and power your blog on the internet.
The best hosting you should be blogging on is Bluehost, considering the fact that they use fast web servers, which makes your site load faster.
They also have a 24/7 uptime guarantee and customer support service to help you with technical issues that may arise on your site, and they are highly recommended by WordPress.
With just $2.95/month, you can get your blog started on Bluehost. Better still, you won't have to pay for your domain name as Bluehost will give you that for free. Get Started with Bluehost.
Once you have your account created and set up, the next thing is to install WordPress, create your necessary pages, install some necessary plugins, and start writing your blog posts.
Before proceeding with writing your blog posts, you should do in-depth keyword research with a keyword tool, such as longtail pro to get winning longtail keywords for ranking your blog posts well in search engines.
If you are finding it difficult to come up with content ideas for your blog, you can readily hire a writer to help you out any time any day. The fee is just a token, with only $1.50 you will get a professionally written article for your blog instantly.
Summary of blogging tips for beginners
Here is a quick recap of the best blogging tips for beginners.
Choose a suitable niche to blog about.
Head over to Bluehost to get your website hosted.
Set up your website and add the necessary pages.
Install the aforementioned plugins for better site functionality.
If you find it difficult to write engaging blog posts, no problem, simply hire a writer to help you out for only a token.
Install Grammarly for writing corrections.
Remember, without keyword research, you won't have any chance of ranking on search engines. To come up with winning longtail keywords, research your keywords on Longtailpro.
Promote your blog and get traction with your posts.
FAQs On How To Start A Blog
Can I Start A Blog And Make Money?
Yes, you can actually start a successful blog that makes money. All you will need is good hosting, and you are good to go.
How Do I Get My Blog Started Already?
It is never hard to get your blog started, all you need is to buy a hosting account with Bluehost, then proceed to install WordPress, set up your blog pages, and start blogging in earnest. If at all creating content is a problem for you, you can likewise hire a writer to help you out.
How Do Bloggers Make Money?
Bloggers make money when they have a good amount of traffic coming to their site. There are several ways a blogger can monetize his or her site, this is either through affiliate marketing, running ads, selling digital products, etc. All you should bear in mind is that the bigger your traffic the more money you make.
Here is also a video tutorial on how to set up your WordPress blog from start to finish, you are free to check it out so as never to miss any step as you proceed with building your blog.
There is enough information to help with your success in building a thriving blog right on this post, if you truly want to learn how to start a blog that makes money, all you should do is implement every walk-through made available in this post as you proceed with your blogging journey.
Remember that hosting your WordPress blog on the right server is as important as ever, that's why I have always recommended Bluehost to anyone who wants to build a professional-looking blog that is free from hiccups.
Pls, extend the love, and don't forget to share this post with your friends to help them find success online.
Learn More: